Philadelphia – Partnership. Humility. Solidarity. Possibility. These are words used to describe outcomes and results from the Mobilizing Action for Resilient Communities (MARC) convening that was held in March of 2017. The convening brought together community leaders in the trauma-informed movement from 14 networks in 14 states. Participants discussed their projects, shared their ideas, and learned from each other at the two day event in Philadelphia.
The purpose of the convening was to bring MARC networks together to deepen relationships, share successes and challenges, identify the impact of these networks on their community and plan for the future.
"It's just so rare for people to have the chance to step away from their day-to-day responsibilities, to have a space for reflection and to really devote time to building relationships," said Clare Reidy, MARC Program Manager with the Health Federation of Philadelphia (HFP).  "MARC is a learning collaborative. Its purpose is to build movements. Movements depend on relationships, and this space was a driver for that relationship development.
MARC began in 2015 with support from the Robert Wood Johnson Foundation and The California Endowment; it is coordinated by HFP. The 14 MARC network site members represent communities from cities, counties, regions and states who all work to bring the science of Adverse Childhood Experiences (ACEs) into practice. They raise awareness, inform policy and systems change, and provide training in ACEs, trauma-informed practices and fostering community resilience.
As a learning collaborative, the MARC communities share notes, identify best practices and work together to develop ways to gauge the impact of their work. The recent MARC convening is just one way the group shares their experiences together.
For Rosa Ana Lozada, the chief executive officer of Harmonium, Inc. in San Diego, California, MARC has helped her organization gain a broader perspective on ACEs. "On a simple scale, the modeling of trauma-informed practices is always a good reminder of the innumerable ways that each of us can influence relationships and environments," said Lozada. "The MARC convening helped formulate further thinking about the direction of the San Diego Trauma Informed Guide Team, particularly sustainability and policy."
In addition to relationship building, the MARC convening focused on policy and systems change, impact and indicators, and sustainability. Seven themes emerged from the convening conversations. These will be included in a brief that MARC plans to release by the end of April  to help other communities learn and grow from their discussion.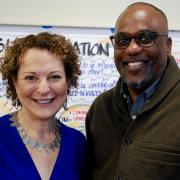 The meeting was facilitated by Ilene Wasserman, PhD, and Jeffrey Branch, EdD from ICW Consulting Group. It was trauma-informed in its approach, and incorporated the work many of the communities have implemented. Instead of traditional breaks, volunteers modeled some of the engagement strategies they use within their own networks. The breaks mixed art, meditation and movement. Each network also participated in one-on-one peer coaching sessions.
"During the final portion of the gathering, I was lucky enough to receive coaching from Lisa Eby, who represented the Buncombe County ACE and Resilience Collaborative," explained Elizabeth Hudson, director of the Office of Children's Mental Health in Madison, Wisconsin. "Lisa was attentive, affirming and an empathic listener who crystalized my concerns and offered several tools I might use in order to continue addressing barriers upon my return to Wisconsin."
Hudson added, "The convening offered a chance to reflect and think more strategically about Wisconsin's goals. The hurried day-to-day operations are not conducive to more focused contemplation, even though we know that reflection is essential to success."
Still, relationship building was the ultimate outcome for the participants of the MARC convening. "Prior to the meeting, we were encouraged to 'reach out' and learn from one another. My own human nature led me to feel as if reaching out would be an imposition on the other networks, " said Kristi Slette, executive director of the Whatcom Family and Community Network in Bellingham, Washington. "With this convening, all of that is forever changed. I now feel at ease to reach out and connect with the other MARC networks – for anything, at any time."
As a grant-funded project, MARC is scheduled to conclude in November of 2017. The hope is that the project will continue.
"MARC has been successful in building a movement across various networks. Social change can't happen without a vanguard that is inclusive and diverse," said Reidy. "You can't really expect to see change when there isn't engagement, and we've seen that our MARC networks are deeply engaged in their communities and are powerful agents of change. We want to continue to help build this movement."
For more information about MARC, visit the MARC website.
For the latest updates on MARC communities, visit the MARC community pages.