Participants in the Health Federation of Philadelphia's Diabetes Prevention Program (DPP), along with family, friends, and other supporters, gathered recently to celebrate the completion of their time in the program. Smiles, hugs, and congratulatory messages were exchanged, and while their time in the program has concluded, participants shared stories and lessons that they will continue to carry with them throughout their health journey.
"When I first started, I wondered why I was invited to join," Cynthia Robinson, a participant from Philadelphia's Health Center Five, said. "I was in self-denial. It's a personal choice and once I realized that it could change, I shifted my mindset and started to work for it."
Beverly Scott, a participant from the Mattie L. Humphrey Health Center (formerly Health Center Nine) added: "I had to change my attitude, truthfully. This program helped me leave the gummy bears behind, the cupcakes behind. So many times I'm getting ready to eat, and I hear Michelle in my ear, or see Cliff smiling, and I'm reminded of what I'm working toward."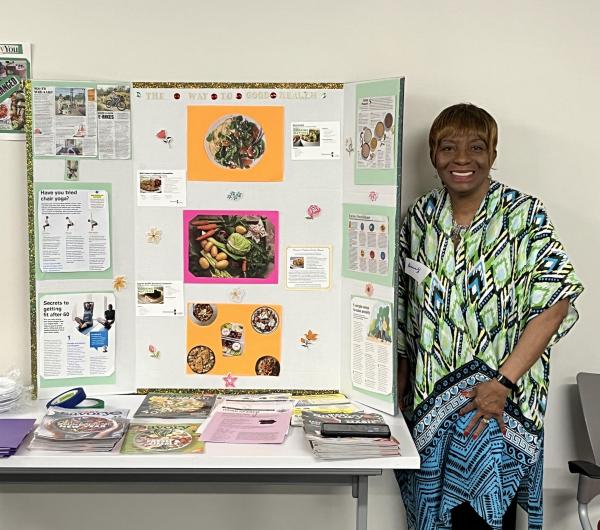 Ms. Beverly Scott stands proudly with her vision board, which she hopes will help her continue to achieve her health goals
The Michelle and Cliff that Ms. Scott speaks of are Michelle Young-Stevenson, a retired nurse who worked at Health Center Five for over 10 years, and Cliff Brown, a health and wellness specialist at HFP. The two served as co-facilitators of the program.
The group met regularly with Michelle and Cliff to learn about the ailment and share strategies for a healthier lifestyle. Session topics ranged from fitness and nutrition, to managing and identifying stressors, and more, with an emphasis on well-being and the needs of the participants.
While education was at the center of each session, the program also served as a space for community. Participants were given the chance to connect with others going through the same journey.
"At first, everybody was a little shy, a little standoffish," Ms. Scott said. "Michelle and Cliff really brought us in as a family though. We could talk about different things, how we were doing, how we were feeling. One time when I joined a session — and this really made me feel fantastic — one of the ladies said to me, 'Oh my goodness, I can see it in your face, you are losing weight. You look fantastic!' And that made me really feel good."
"That's what Michelle and Cliff did," Ms. Scott continued. "They were like the rah-rah club, and once in a while you need that because sometimes you feel as though you're not doing what you're supposed to be doing, but they gave us confidence that we could do it."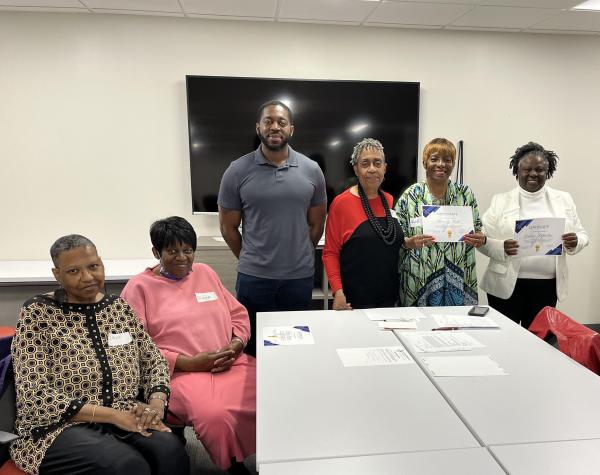 Members of the most recent Diabetes Prevention Program cohort gathered both in person and virtually to celebrate their successes
Throughout the program, participants pledged to take part in at least 150 minutes of exercise per week and work toward losing 5-7% of their body weight over the course of the program. In order to achieve this, participants were provided additional tools for success, including exercise supplies such as pedometers to track walking, resistance bands, and a fitness journal. They also received a scale to track weight changes and a healthy food box with four weeks worth of produce.
According to Michelle and Cliff, this cohort completed more than 15,000 minutes of activity and lost more than 100 lbs. collectively over the year-long program.
"Michelle and I take great pride in helping participants build the confidence to take charge of their health and wellness," Cliff said. "It's easy to feel discouraged and ashamed when making significant lifestyle changes and that is at the forefront of our minds when planning discussions and outreach methods. Although this program provides guidance on how to deliver the information, it's truly an art to establish trust and belief that this approach works. Michelle has been our North Star and cheerleader throughout this process."
In addition to the benefits of the program, HFP has launched a new DPP alumni group to give participants the chance to stay connected and provide continuing support to one another.
"We continue to be a resource for participants, even after they complete the program," Cliff explained. "Now, in addition, we have the DPP alumni group, which is offered to participants that have finished the program, but still have a desire for additional support and education afterward.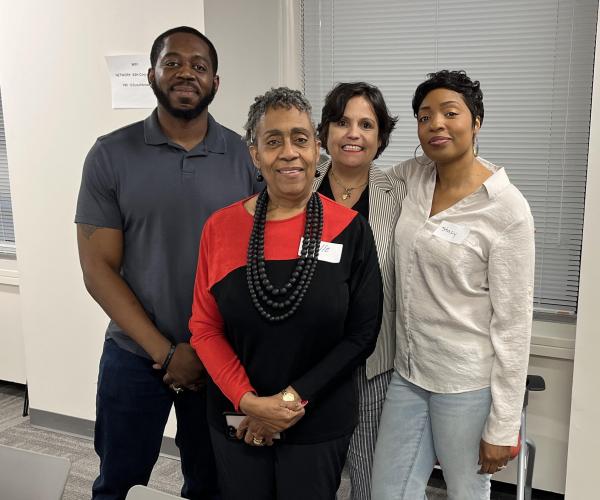 Health Federation of Philadelphia lifestyle coaches
The Diabetes Prevention Program is an evidence-based, CDC-recognized program that is intended to help prediabetic individuals make lifestyle changes to delay or prevent Type 2 diabetes and other serious conditions. According to the CDC, among adults 59 years old and younger, participation in a year-long diabetes prevention program has been proven to reduce the probability of developing Type 2 diabetes by up to 58%.
"It's about progress, not perfection," Joyce Cohen, a program participant, affirmed.