The Health Federation of Philadelphia hosted its annual Health Center Controlled Network (HCCN) in-person meeting on Tuesday, June 6 and Wednesday, June 7 at Normandy Farm Hotel & Conference Center. Representatives from health centers around Pennsylvania — as far as Erie! — gathered for an opportunity to learn, network, and collaborate with others across the HCCN and around the state. This year's meeting focused on the role of health information technology in healthcare.
"I am new to MHEDS, starting in October of last year," said Jessica Hughes, CEO of Multi-Cultural Health Evaluation Delivery System, a federally qualified health center look-alike in Erie, Pennsylvania. "I moved from Philadelphia, so when I first started and realized that the HCCN and Health Federation stretched to the other side of the state, I was really excited. For me, it feels like kinship. I can work with an organization that I'm very familiar with, that I have strong connections with, and be on the other side of the state."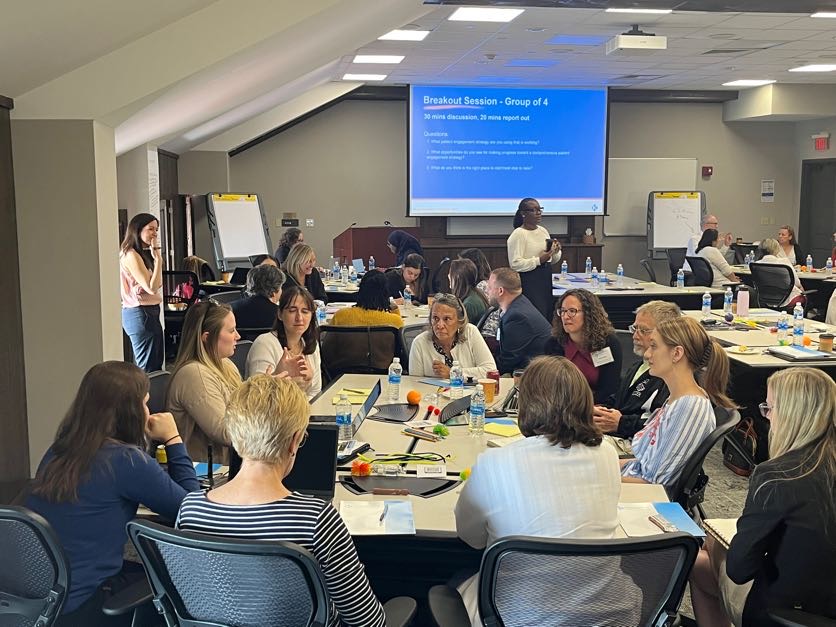 Participants gathered in small groups throughout the day to discuss their experiences
On day one, several HFP staff members shared presentations on important topics, including patient engagement strategies, digital literacy and digital health navigation, privacy and security, and health information exchange in Pennsylvania. During breakout sessions after the presentations, participants were given the chance to share challenges they face in these areas to receive assistance and guidance from colleagues around the room.
Day two focused on Azara DRVS, a data reporting and analytics tool used by HCCN members. Azara's Clinical Transformation Team worked with participants to take their understanding and use of the tool to a higher level.
"While it's nice to be in my old stomping ground for this meeting, it's even better for my staff to have a chance to connect with others because most were born and raised in northwestern Pennsylvania and are unfamiliar with a lot of the work health centers are doing across the state," Hughes said. "Since 2019, MHEDS has had a new CEO, new CMO, and new CFO, so we've had a lot of change. Plus COVID. So for our staff to see there's more than just our neck of the woods — that this is a statewide movement to be better — is a great learning experience."
Led by Suzanne Cohen, the Senior Director of Population Health at HFP, the HCCN team includes: Holly Hainsworth, Director of Population Health Initiatives; Jessica Chen, Quality Improvement Program Manager; Khai Williams, Director of Clinical Informatics; Modupeola Dovi, Project Manager; and Brett Pickus, Health Information Technology Project Manager.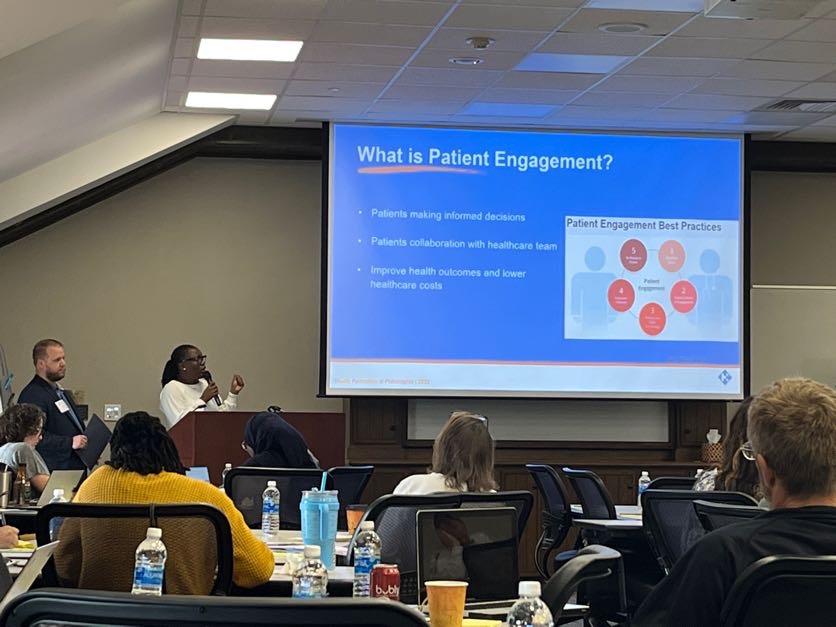 HFP's Khai Williams and Brett Pickus shared information about patient engagement
HCCN is a grant-supported program open to Federally Qualified Health Centers and look-alikes across Pennsylvania. The project focuses on supporting patient-centered health care delivery and population health. HCCN helps health centers to optimize use of information technology tools and supports quality improvement efforts such as data collection, management, analysis, and reporting. The HCCN data warehouse represents de-identified health services and outcomes data for over 500,000 health center patients in Pennsylvania.
This program is supported by the Health Resources and Services Administration (HRSA) of the United States Department of Health and Human Services (HHS) as part of an award totaling $3,040,817 with 0% financed with nongovernmental sources.
-HFP-